Boat Inspections/Surveys
We specialise in independent yacht, launch and boat surveys, and consulting for timber and composite vessels. Our boat survey reports are clear, succinct and communicate the status of vessels using tables and images.
We use visual observation, percussion (tap) testing, and electronic analysis tools to determine structural condition.
I have built and repaired most variations of glued timber, glued timber composite, high modulus composite and production fibreglass and traditional planked timber vessels. This includes hands on experience of balsa cores, coremat, closed cell PVC, nomex cores; polyester, epoxy, vinylester resins and the various extenders; carbon, multiaxial and plain chopped strand mats and woven rovings reinforcements. It also includes use of many timbers, plywoods, metal compositions and observation of their deterioration in the real world.

My focus is always prioritised on the safety of the vessel – penetrations, glands, appendage attachments, hull and scantling structure, valves, mast steps, chainplates etc.
Paul Stock
Commercial vessel surveys

Certified by Maritime New Zealand for:
In-construction and initial commercial vessel surveys. Vessels up to 15m operating in up to Restricted Coastal Limits – certified for wood and fibre reinforced composite.
Periodic commercial vessel surveys. Vessels up to 24m operating in up to Coastal Limits – certified for wood and fibre reinforced composite
Also: Survey plans and operational plans for commercial operations to meet MOSS and survey requirements.
https://www.maritimenz.govt.nz/commercial/safety/surveyors/default.asp
Pleasure boat surveys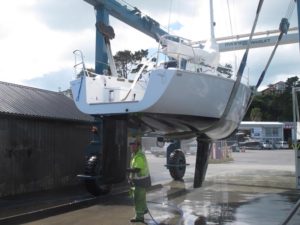 Pre purchase inspections
Pre sale inspections
Insurance inspections
Insurance inspections – damage assessment
New build co ordination/supervision
Inspections for finance companies
Vessel operational manuals.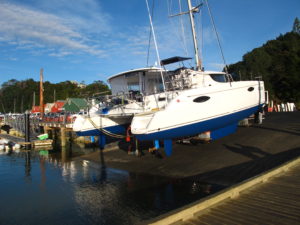 Paul Stock, Inspector/surveyor, has 35 years of experience in the marine industry; in boat construction, design, project management, and reporting. He is able to gather and clearly communicate the info that you need to make decisions about vessel sales, purchases, insurance and finance.
Wainui Marine is based in central in Auckland, five minutes from Westhaven Marina, and within easy traveling routes to all of Auckland's marinas and haul out yards. We aren't limited to Auckland and travel as required, often North to the Bay of Islands.
Non destructive survey techniques include:
visual examination
digital photography (a digital photo folder is included with each pre purchase report for reference)
substrate moisture and temperature testing
percussion (hammer tap) testing
Contact us for a no obligation chat about your inspection/survey requirements.
Paul Stock
021 747 687
FAQs about boat inspections/surveys
How do I choose an inspector/surveyor?
An inspector/surveyor should be familiar and experienced in the vessel construction type. They are usually qualified boatbuilders with experience in the material type. Inspectors have broad experience of vessel use, maintenance, and vessel systems.

Choose an inspector/surveyor who is independent of the seller and if applicable, broker.
How much do boat inspections/surveys cost?
It varies, the per metre of length rate that is usually used may increase on large vessels due to the size of the vessel and complexity. Some inspectors charge a minimum rate for small vessels. Some inspectors work on an hourly rate.
Hull-only inspections typically cost less than full pre purchase inspection rates.  Check with your insurer before commissioning a hull only inspection as some insurers require a full survey.
The report detail, time it takes and cost will vary between inspectors/surveyors.
What is osmosis?
Moisture permeates the boat's skin and finds it's way into pockets of uncured polyester resin which reacts to form an osmotic fluid mixture. Blisters form and increase in pressure till eventually they burst. This is more common on older vessels however it can also occur on newer vessels. Blisters will sometimes be in an area where resin may not have been mixed properly, or for various other reasons. See Mike Menzies' description of Osmosis here for a more in depth explanation.
What is the difference between a survey and an inspection?
"Survey" is for commercial vessels but the term gets used in pleasure boats to mean "inspection" – usually for pre purchase purposes.
What certification/qualification is required for boat inspectors/surveyors?
Pleasure boat inspectors are almost all very experienced boatbuilders/designers/boat users, however some professional organizations – mostly offshore based – offer membership in categories depending on candidate experience. Some inspectors/surveyors are members of one of those organisations.
Maritime New Zealand accredits commercial vessel surveyors who typically work in the commercial vessel area doing initial and periodic safety inspections of commercial vessels. Some surveyors are accredited to do design approvals (these are often Naval Architects).

Does the boat need to be hauled out as part of the inspection?
Usually, in order to assess the outside of the vessel. In-water inspections are accepted by some insurers.  Check with your insurer before the inspection to ensure that their requirements will be covered by the scope of the survey.
I just need an insurance survey – what does that involve?
Check with your insurer, requirements may vary with age and boat type. Older vessels may require regular surveys every few years for insurance, or when they reach a certain age.

What are the haul out options in the area?
Boat inspections/surveys haul out areas include:
Auckland – Westhaven:  Floating Dock; Pier 21 travel lift; Orams travel lift
Auckland – Orakei /Half Moon Bay – Trailer/cradle on ramp
Westpark (Hobsonville) – Travel lift
Half Moon Bay – Travel lift
Gulf Harbour – Travel lift
Pine Harbour (Beachlands) – Travel lift
How long will it take?
A lift and hold usually requires a minimum of an hour although much more time may be needed for large boats. The interior, systems and structure assessment time ranges from 3-4 hours to days for large vessels. Average pre purchase boat inspections/surveys usually take most of a day + reporting.

What's the contents of a pre purchase inspection report?
Inspectors vary in their report presentation. Our reports code vessel components and their condition along with a description of the issues so that work required and repair cost may be estimated.
Our reports include a photo folder to show the issues.
How do I estimate how much repairs will cost?
The best way is to get quotes or estimates from boatbuilders.

What is a star/spider crack?
Gelcoat is thick pigmented polyester resin that forms the outer coating of fibreglass vessels. It shrinks a lot when it cures and the shrinkage sets up a  tension in the skin that when impacted or flexed often causes cracking that sometimes resembles a star/spider type pattern. It can be difficult to tell if a backing laminate behind a star/spider crack is fractured, sometimes tapping will indicate a fracture. Generally spider cracks that are not related to a fracturing of a backing laminate are not structurally significant.
What is required for gas installations on boats?
Note: The Gas (Safety and Measurement) Regulations 2010 have been in effect since July 2013 and require that any gasfitting work done after that date comply with the requirements of the Regulations. This usually means having a certifying gasfitter do the installations and issue a certificate for the gasfitting work. New and altered installations are affected.
Some insurers may require older gas installations to comply with the Marine Gas Regulations. To find out more see this article.